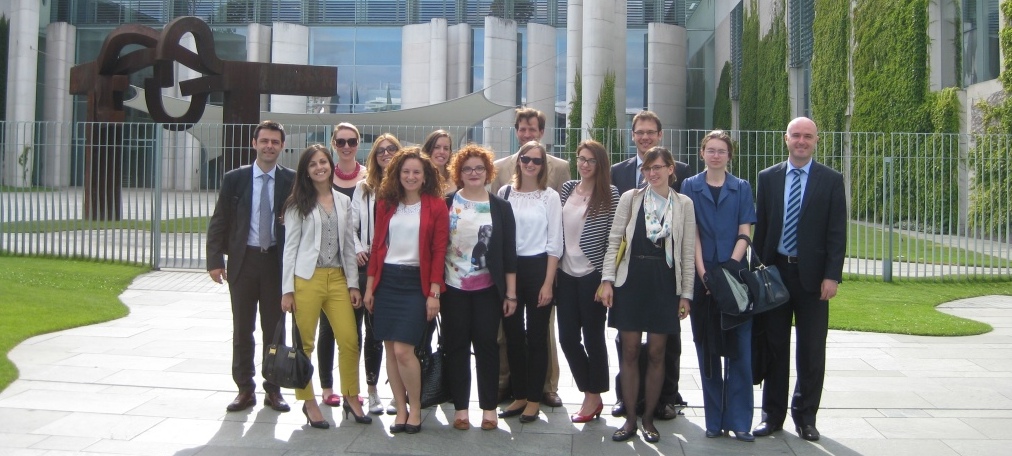 Mid-Term Seminar: TRAIN 2014 – Fostering Policy Dialogue
Following the opening seminar of this year's TRAIN (Think Tanks Providing Research and Advice Through Interaction and Networking) in Belgrade, Serbia, participants in the German Council of Foreign Relations (DGAP) ran programme gathered again in Berlin, Germany, between 10 and 14 June 2014.
Together with other colleagues from Western Balkan think tanks, Populari's Policy Researcher Katarina Cvikl took part in several days of workshops and meetings related to the group's research projects in the TRAIN 2014 Programme. During the communication workshop with DGAP Associate Fellow Cornelius Adebahr, the participants worked on finding strategic focus and ways to most efficiently communicate the messages of their research.
The workshop also included practical video training on delivering presentations, which for the group members proved to be a useful way of self-evaluation of existing skills in communicating with different audiences. During their stay inBerlin, participants discussed the progress of their research and the drafting of their policy papers, which also included a peer review and exchange of views and impressions among them.
Aside from the internal interaction, TRAIN participants also held three meetings with representatives of key German institutions at which they both shared their views linked to the EU enlargement to the Western Balkans and challenges facing each of their respective states, and learnt about the German policies in this respect. Starting with a meeting with Heike Baddenhausen at the German Bundestag, where they acquainted themselves with the work of the Committee on the Affairs of the European Union, participants also visited the Federal Chancellery and discussed German Chancellor Angela Merkel's renewed engagement in the region with Alexander Jung. The meeting that concluded the seminar was held at the German Federal Foreign Office with the Head of the Western Balkan Division, Hans-Ulrich Südbeck.
Equipped with fresh insight and ideas for improving their future policy briefs, the participants returned to their think tanks, where they will continue working on their research projects. In November, they will meet again in Brussels to present their findings to Brussels-based EU policy- and decision-makers.