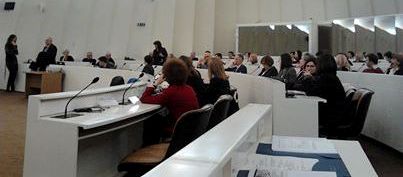 World Bank Roundtable: Jobs for Bosnia and Herzegovina
The World Bank invited Populari's policy researcher Katarina Cvikl to take active part in the "Jobs for Bosnia and Herzegovina" debate that was held on 30 January 2014 in Sarajevo.  The discussion Katarina participated in was organised to accompany the launch of a new regional report "Back to Work: Growing with Jobs in Europe and Central Asia".
Participants in the debate that was held at the Parliament of BiH were first welcomed by the host Vjekoslav Bevanda, Chairman of the Council of Ministers of BiH, and Ellen Goldstein, the World Bank Country Director for Southeast Europe, who stressed how a high rate youth unemployment can pose a threat to peace. World Bank's economists then presented the main findings of the "Back to Work: Growing with Jobs in Europe and Central Asia" report, relating to BiH. They emphasised that economic growth in itself is not sufficient for the lowering of unemployment rates; this macro-economic foundation should be followed by measures enabling the opening of new job posts (e.g. easing the opening of new companies) and helping workers in their preparation for new jobs (e.g. educational and practical programmes for gaining of skills that match the requirements of new jobs).
The panellists Vjekoslav Čamber (Minister of Labour and Social Policy of Federation of BiH), Marko Đogo (professor at the Faculty of Economics in Istočno Sarajevo) and Edin Mehić (director at the Posao.ba employment agency) expressed their views of the worrying situation, and warned of the skills mismatch in the labour market, as well as the lack of motivation sometimes present in youth that is a consequence of the non-favourable environment. Populari's Katarina Cvikl also shared her opinion on the report and the issue of youth unemployment, based on Populari's latest research on this subject. She agreed that youth, while maintaining high expectations from, for instance, the state, are for a number of reasons often not willing to take up the rare jobs when they do come up in a bad economic environment. She added that economic and structural reforms are urgently needed, but because their effects are never immediate, we should also be looking at solutions with more short term beneficial impacts.
Several other participants from all over BiH and from various sectors, including the youth, the government and trade unions, shared their thoughts on the situation and hopes that steps in the right direction would be made soon.
More details on the debate and presentation can be downloaded below:
Invitation to the Debate: Jobs for Bosnia and Herzegovina (.pdf) >>>