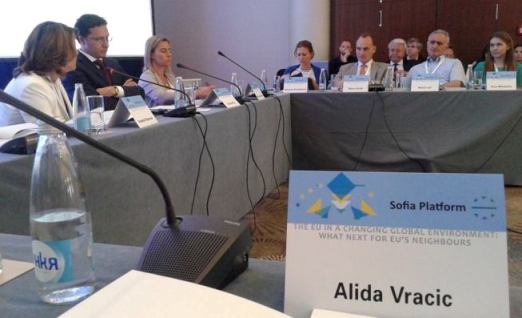 International Round Table: SOFIA Platform 2015
Alida Vračić, Populari's Executive Director participated in the international round table discussion "The EU in a Changing Global Environment: What Next for EU's Neighbors" iwithin the Sofia Platform 2015, organized by the European Council on Foreign Relations, Sofia Platform and Bulgarian Ministry of Foreign Affairs, held on 23 July 2015 in Sofia, Bulgaria.
Source: Populari, 2015
The round table "The EU in a Changing Global Environment: What Next for EU's Neighbors" aimed to stir discussion and new ideas on the revision and the amendments to the EU Global Strategy on Foreign Policy and Security, including the situation in the Balkans, Turkey and the Eastern neighborhood.
Alida Vračić participated in this international round table discussion with the High Representative of the EU for Foreign Affairs and Security Policy, Federica Mogherini, and regional think tank representatives within the framework of EU's Global Foreign Policy Strategy Review and the review of the European Neighborhood Policy.  Over 40 experts from 14 countries participated in the discussion and had the opportunity to share their points of view, opinions and ideas with Federica Mogherini.
As one of the speakers, Vračić participated in the discussion named "EU's Unfinished Business: What Next for the Western Balkans and Turkey?" together with the colleagues from Serbia, Albania, Macedonia and Turkey.
More information about the international round table and topics covered can be found in the document on the right side.