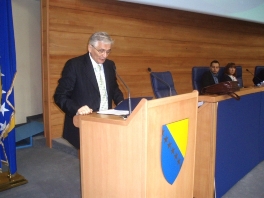 Conference: Strengthening Democratic Culture of Dialogue and Cooperation Between Government Institutions and Civil Society in BiH
Think tank Populari participated in the conference "Strengthening democratic culture of dialogue and cooperation between government institutions and civil society in BiH – Applying the Agreement of cooperation between the Council of Ministers BiH and NGO sector in BiH" held on March 31, 2009 in Sarajevo, BiH.
The conference was organized under the authority of the President of the Council of Ministers, Mr. Nikola Špirić and held in the conference room of the Parliamentary Assembly of Bosnia and Herzegovina.
At the end of the conference, the adopted conclusions included participants' readiness and dedication to fulfilling the responsibilities accepted by signing the Agreement.
Conference's conclusions should help the Council of Ministers of BiH and civil sector in implementing the activities of the Agreement, but also unified in condemning all individuals and groups which jeopardize the freedom of speech and activity.
More details on the conference can be downloaded below:
Opening Speech by Nikola Špirić at the Conference (.pdf) >>>