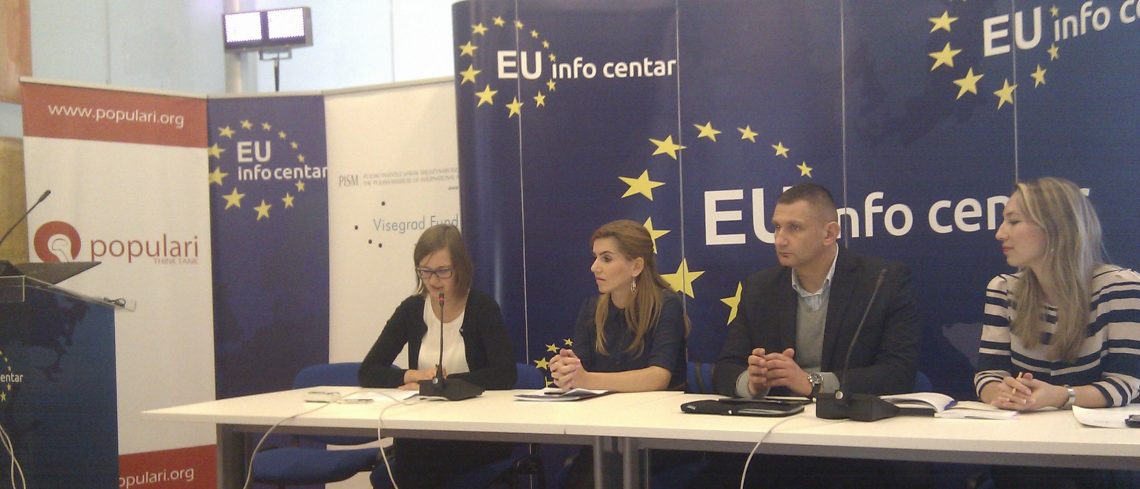 Presentation of Publication: Civil Society in the EU Integration of the Western Balkans
On the occasion of the publishing of the "Thinking 4 Governance" project joint report, Populari organized a presentation titled "Civil Society in the EU Integration of the Western Balkans " which was held on Thursday, 13 November 2014 in the European Union Info Center (EUIC) in Sarajevo. Aside from Populari, the BiH partners of the Polish Institute of International Affairs, the organisation that implemented the project, were the Center for Security Studies and Vaša Prava — Legal Aid Network.
The event gathered representatives of the BiH government institutions, Delegation of EU to the BiH, embassies of Visegrad countries in BiH, and in small numbers also CSOs. After introductory speech of Tomasz Żornaczuk, editor of the publication and PISM representative, Hana Semanić, moderator from another partner institution, Centre for EU Enlargement Studies(Budapest), shortly presented the three co-autors of the publication. Katarina Cvikl, policy researcher in think tank Populari, Mirela Hodović, policy researcher in Center for Security Studies and, Dragan Vujanović, deputy programme director in the Legal Aid Network then delivered the presentation related to the BiH chapters of the publication.
The presentation was followed by interaction with the audience particularly representatives of government and the EU Delegation to the BiH. A vibrant and fruitful discussion and exchange of opinions is evidence supppoting the key finding of the report, namely that dialogue and communication between the civil society and government institutions in BiH are insufficient, but that there is a great need to develop these relations further.
The report is co-authored by twenty experts from the most active civil society organizations of the Western Balkans. Through the analysis of Chapters 23 and 24 of the Acquis Communautaire of the European Union, the publication raises the question of how to improve collaboration between government and civil society, with an emphasis on monitoring during the EU integration process, protection of human rights, the  effective migration policies implementation, the impartiality of the judiciary, anti-corruption measures and solid civic education. The project is funded by The International Visegrad Fund.
Publication can be downloaded below or at: http://www.pism.pl/publications/books/civil-society-in-the-eu-integration-of-the-western-balkans.
Civil Society in the EU Integration of the Western Balkans (.pdf) >>>