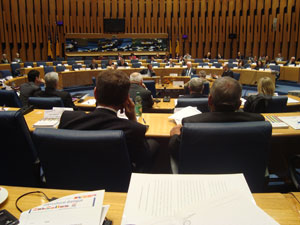 International Conference: "Intercultural Dialogue and Internal Security"
Alida Vračić, Populari's executive director participated as panelist at the international conference "Intercultural Dialogue and Internal Security" held in Sarajevo on May 15, 2010.
Bosnia and Herzegovina and its capital Sarajevo hosted this international conference named "Intercultural dialogue and internal security" that gathered ministers of internal affairs of the West Balkans countries and Salzburg Forum.
Alida took part as panelist on the role of religion as a bridge builder in the intercultural dialogue.  Besides Alida, panelists were former Minister of Internal Affairs of Montenegro Jusuf Kalamperović, General Director of Alevi, Federation in Austria Deniz Karabulut, and representative of Jewish Community in BiH Darko Finci.
After an intense two-day session, the Sarajevo Declaration was adopted, according to which cultural diversity and dialogue are accepted as a source of richness and multicultural dialogue as an instrument of fight against terrorism.
More details on the conference can be downloaded below:
Press Article: atlanskainicijativa.org: International Conference: "Intercultural Dialogue and Internal Security" (.pdf) >>>