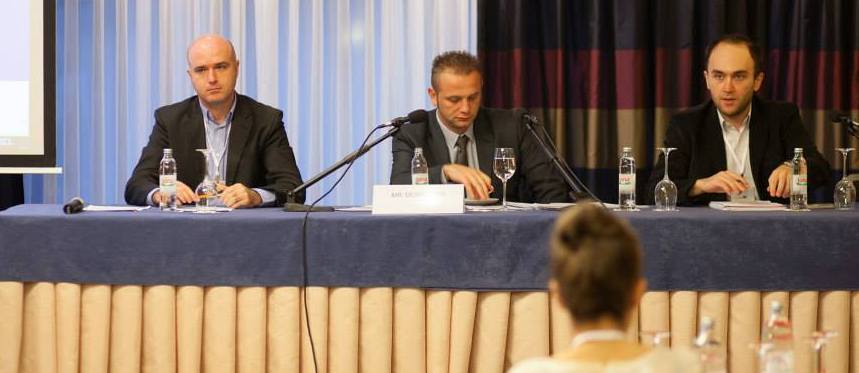 Conference: Good Governance From a Cross-Sectoral Perspective
Populari's policy researcher Ajdin Perco took part in a two day conference organized by the European Fund for the Balkans and the Regional Research Promotion Programme under the title of "Good governance from a cross-sectoral perspective". The event was held on November 7 and 8, 2013 in Zagreb, the capital of the latest EU member state Croatia, and it is a symbolic venue chosen to promote the idea that the Western Balkans state should learn and use Croatia's EU accession experience.
Ajdin participated in this conference as a panellist presenting the current state of affairs in the field of e-governance in BiH and drawing comparison with the situation in Kosovo that was further elaborated by co-presenter Visar Rushiti from Kosovo based think tank GAP. Although the two countries have different administrative set up, they still face significant problems in the implementation of relevant e-governance legislation and strategy. One of the main messages was that BiH's complex administration is not necessarily an obstacle for further reforms, but rather a lack of political will to agree on common principles that is hampering the prospects for concrete progress.
Other presentations highlighted various aspects of good governance issues faced by the Western Balkans states in many different sectors. The countries of the region share many similar problems and exchange of good practices is a key in overcoming mutual problems.
The conference was beneficial for Populari in terms of gaining insights into the ideas and projects of other similar organizations as well as the policy makers and academicians. Apart from this, it served as good platform for exchanging opinions and meeting other researchers and discussing possible cooperation with a single goal of promoting the EU accession process in the region based on lessons drawn from Croatia.
More details on the conference can be downloaded below:
Agenda: Conference: Good Governance From a Cross-Sectoral Perspective (.pdf) >>>