Report "A Political Romance: Relations between Turkey and Bosnia and Herzegovina"
This report is a study of relations between two countries, Turkey and Bosnia and Herzegovina (BiH), their specific political relations rooted in deep historical, cultural and religious ties, political flirtation, and economic  trends that (un)follow this seemingly  idyllic exchange.
Given Turkey's ever-growing political and economic power in the world, as well as regional stage, nurturing BiH's good cooperation with this powerful friend definitely deserves special attention. But as this report shows, the ties often presented as idyllic by politicians on both sides, on the ground to date did not generate many tangible results. Focusing on the culture, politics and economy of these relations, our analysis finds that, in fact, even though Turkey claims to cooperate with all BiH citizens equally, its activities are predominantly present in Federation of BiH and in cooperation with Bosniaks.
In spite of this uneven approach, politicians on all sides are welcoming of Turkish already frequent investments in the renewal of the Ottoman cultural heritage. Similarly, judging from their public statements, for more than a decade all of them have also been interested in strengthening economic ties — and this is where the largest gap between rhetoric and practice is present. Excluding donations, Turkey was between 1994 and 2012 for instance only the 9th biggest investor in BiH's, behind Switzerland or the Netherlands that claim no special connection to BiH.
This proves that in economy and the business world in general, history, affection and friendship play no special role, even if the friend is Turkey.
One of the conclusions of the report is that instead of relying on brotherhood and waiting for Turkey to make the first step, BiH should develop a clear and updated foreign policy framework, start undertaking active measures to improve its business climate, and set clear priorities benefiting its own economy.
This project has been supported by the Balkan Trust for Democracy, the German Marshall Fund of the United States.
You can download the report here (.pdf) >>>
Brief: A POLITICAL ROMANCE: THE RELATIONSHIP BETWEEN BOSNIA AND TURKEY (.pdf) >>>
Infographics: Trade Exchange between Turkey and BiH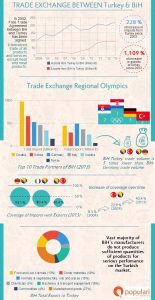 Infographics: Turkish Soft Power in BiH

Infographics: Turkish Investments in BiH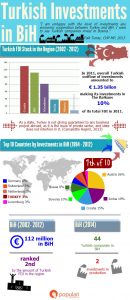 Infographics: Good 2 Know