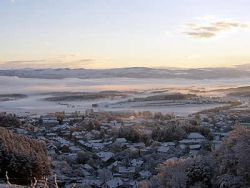 Evidence Based Policy in Donor Activity
"The factory will have a capacity of 6 tons of herbs per day, but this scale of a project can only succeed if it becomes a regional centre. Unfortunately, there are a lot of issues that have not been thought through, such as how to enter the market and develop a brand!" – Dragan Brenjo, Technology Engineer in Food Safety Agency of BiH.
Nevesinje is a small rural mountain village far from the main road through Herzegovina. For centuries traditional crop husbandry and cattle breeding have produced healthy, natural organic foods but it is a remote place and its dependence on primary produce limits its opportunities for growth. Soon a 1,5 million KM donation from the international community will produce a modern HACCP compliant plant drying factory with sufficient processing capacities for all of Herzegovina. The factory will buy up the medicinal herbs, mushrooms and plums from local collectors and add value by drying them and in so doing provide sustainable employment for women victims of domestic and gender related abuse.