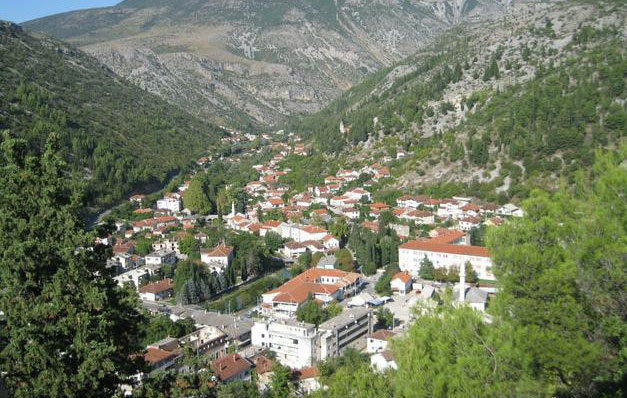 Stolac – Overcoming Divisions
The UK Business Link model, which served as a platform for the Business Bus pilot project proved to be flexible enough to work regardless of the economic conditions of a particular BiH area. In particular, the model proved to be adaptable to helping some agricultural producers in the small, predominantly agricultural municipality of Stolac.
Well positioned for economic success
With abundant natural resources and a number of cooperative organisations, Stolac is well positioned for economic success. Located in the south-east of the Herzegovina-Neretva Canton, Stolac's agricultural advantages include its climate, fruit production, early vegetable production, viticulture, apiculture, organic agriculture and herbal plants. Although sparsely populated (a 1999 estimate was 10.000 inhabitants), this municipality has three private agricultural cooperatives. However, what Stolac has lacked is a market orientation that would enable it to more fully exploit its economic opportunities.
"Privrednik": Helping entrepreneurs do more
Ragib Dizdar, an unregistered entrepreneur from Stolac and president of the Entrepreneurs Association, "Privrednik", intends to become one of the leading fig and pomegranate manufacturers in the area. A high-school professor of defence, Ragib says that "The services association members most often request are legal advice, help developing business plans, help creating marketing and promotional materials, and market research". The association has five employees and 38 members – four of whom have registered their businesses.
Like many inhabitants of Stolac, Ragib fled in 1993 during the war; he lived with his family in Mostar. Ambitious and persevering, Ragib returned to Stolac to find its infrastructure destroyed and the employment situation dire. There was clearly a need, not only for housing reconstruction assistance, but also for the creation of income generating opportunities. According to Ragib, "There are many entrepreneurs in this area that could benefit from the kinds of services that Business Bus offered in the pilot phase."
Business Bus project reveals value of consultations
Ragib is convinced that: "The consultations I had through the Business Bus project should have happened five years ago". He adds that it would have helped him develop a clear vision for his future business, in addition to helping him research the market possibilities of his products. Stolac proved to be an excellent example of how the UK Business Link model could be implemented in Bosnia. Key to such an implementation is the importance of identifying the priorities and opportunities that arise from local conditions (agricultural, industrial, etc.), and then developing a network of linkages between entrepreneurs and the appropriate consulting agencies. What is often lacking is sufficient knowledge and expertise to take full advantage of the opportunities that are part of any region. In Stolac, the Business Bus pilot project underscored the value that entrepreneurs can derive from receiving the right advice at the right time.