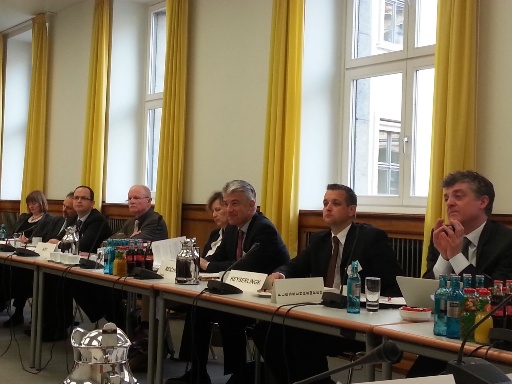 South-Eastern Europe and Europe 2014: Rethinking and Refilling the Toolbox
Alida Vračić, Populari's executive director participated in the international workshop on the topic: "South-Eastern Europe and Europe 2014" held on April 24, 2013 in Berlin at the German Bundestag.
The workshop was organized by the Southeast Europa Association and supported by the Stability Pact for South Eastern Europe and sponsored by Germany.
Following the introductory statements of three "topics to be discussed"  (The Balkans and Europe after Croatia's Accession; The Toolbox and Other Instruments of Integration, and The Western Balkans 2014), participants were invited to contribute to the open and constructive discussion that leaded directly into the exchange of views and opinions. The workshop took place under Chatham House Rule in order to facilitate an open exchange of views and ideas.
Ms. Vračić took active part by providing intervention to the Session II named Costs and Benefits of South-Eastern Enlargement.
More details on the workshop can be downloaded below:
Agenda: Program of the International WS-South-Eastern Europe and Europe 2014: Rethinking and Refilling the Toolbox (.pdf) >>>
Report: International WS-South-Eastern Europe and Europe 2014: Rethinking and Refilling the Toolbox (.pdf) >>>